The Drop-In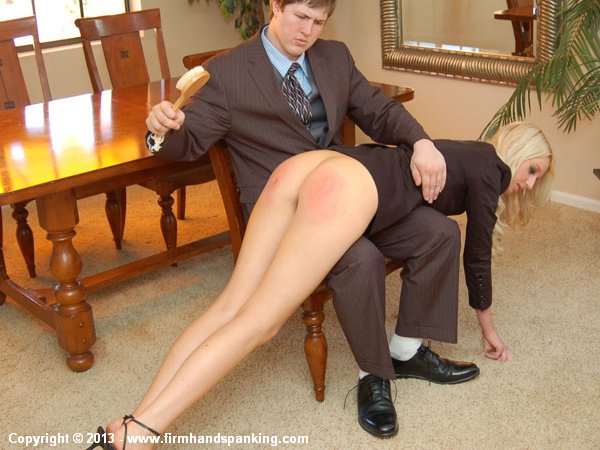 I quickly finished up an e-mail to a client so I could get out of my office.  I had a very important date with a cute young bottom that has practically been begging for a sound spanking.  Rebecca and I had been chatting online via a social media site designed for people who enjoy the company of other people interested in spanking.   Rebecca is 21 year old flight attendant from southern Florida.
Our last e-mail exchange was her forwarding me her flight itinerary.  She would be landing in about 20 minutes and checking into a hotel near the airport. We had planned to spend the evening together getting to know one another. I was secretly hoping we could skip most of the chit chat and get to her being over my knee with her panties down.  My right hand really wanted to get to know her young backside.
I sent her quick text to see if she was going to arrive at the hotel on time.   I waited on pins and needles until I got the response that she had checked in.  I quickly headed out letting my assistant know I would be back in the morning.  A land speed record might have broken in my drive across town.
She was waiting in the hotel bar when I arrived. She was still wearing her work attire.  A very tight fitting skirt that accented her curves, paired with a white blouse that had the first couple of buttons undone.  Her blond hair hung down framing her face.  She was just adorable.
We talked over a couple of drinks.  She told me how I had come with glowing reviews and all of my references had nothing but good things to say about me.  She was very interested in trying out some new implements in the future.  She made it very clear that if anything did happen tonight it would just be my hand and probably not on her bare skin.  To say the least, this made me a little sad on the inside, but I knew this could turn into something great.  We ordered lunch and chatted some more.
After lunch, she gave me a very knowing look and asked me if I would like to go up to her room for dessert.  I very casually agreed that would be a good idea. I was trying my hardest to not seem overly eager.  After all, Rebecca was my youngest play partner I'd had since becoming an adult.
The room was a small single bed with a small sitting area.  I sat down on the foot of her bed and looked at her. I could tell she was just as nervous as I.  Swallowing all I could taste was my own anticipation. After what seemed like eternity, I took control of the situation and pulled her over my knee.  Once over my knee I began to swiftly bring my hand down across her ass.  Her skirt was just tight enough to reveal the soft curves of her very round bottom.   The combination of her skirt and the softness of her cheeks allowed me to increase the force of smacks without hurting my palm.  I spanked her well over thirty or forty times before I stopped to rub my hand over her ass.
We were both panting a little, short of breath from the excitement. I stood her up and reached behind looking for the zipper of her skirt.  She beat me to it and quickly dropped her skirt to the floor.  Her tan stockings were held up by white garters. To my surprise, she was not wearing any panties.
There she stood in all of her beauty.  She looked adorable, her hair frazzled and out of place, her breasts heaving she tried to catch her breath.  An innocent little strip of pubic hair lead the way to her glistening sex.  I took her by the hand once more and placed her over my knee.
Her bottom was the perfect blend of red and peach.  It felt comfortably warm to the touch. I wasted no time in raising my hand up and bringing it down.  I would spank her bottom four or five times before rubbing it gently and checking in with her.  I continued to spank her until she was a flailing sniffling mess of a woman.  She got up and thanked me for taking care of her need.  I thanked her for the privilege.   She excused herself to the restroom to get cleaned up while I took the time to straighten out my sleeves.   We hugged briefly before going our separate ways.
I wonder if she will contact me again.
""To Be Continued""""
 Image from Firmhandspanking